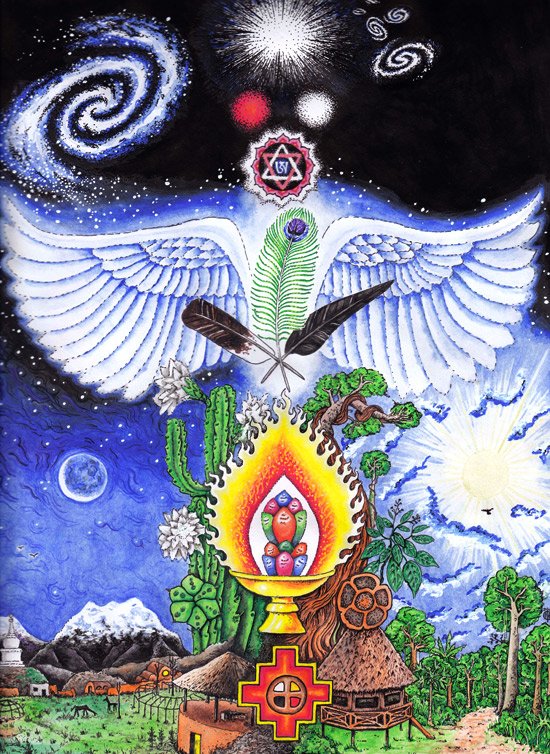 Mission Statement
Sacha Runa was created by Miguel Kavlin to share the many teaching he has received throughout his life and which he has sought to integrate, apply , practice and carry to fruition and share with others in ways that can be of benefit to them, to their families, communities and all of creation. He seeks in this way to contribute to restoring the "Hoop of Life" , a sacred life in harmony and balance among all people, nations, cultures, religions and creatures. 
Sacha Runa is an organization dedicated to help people reconnect with the vital forces of the Universe, their own truth and the Supreme Source. We help each to purify and transform so as to liberate the obstacles that chain us to the state of suffering and illusion, and learn to reconnect to source, draw healing, nourishment and inspiration and learn to allow Spirit to guide our lives and to share and serve others with Divine Love and Light. 
Sacha Runa is a name in Quechua which means "We the people descended from ancestors in ancient times, who know how to live in harmony with the land and are connected with our ancestral truth, but courageously engaged with the forces of the present, in order to co-create our future in meaningful ways". The people of the Amazon that carry this name (quichuas from the Napo, in Ecuador) seek to overcome the dissolution of their traditional life by the forces of modernization  by a careful combination of ancestral and acquired knowledge; they brave the future with a vision of utmost survival and cultural integrity. Inspired by their example we seek to train Warriors of the New Earth, a generation of heart-centered people devoted to overcoming their egos, connecting to source, and sharing Light, Love and Beauty. We do not subscribe to any particular religion, but have received, applied and honored every spiritual tradition and teaching which spirit in its perfection has placed on our path, applying the spiritual transmissions we have received with integrity and earnestness, studying the spiritual knowledge that was shared with us, and sharing the  spiritual practices we have learned. This include Native North American Native, Amazonian, Andean, Tibetan, Sikh, African, Chinese and Judeo-Christian. 
We are convinced and committed to building bridges and finding the common nature that unites and bonds all creatures in love, compassion and mutual care-taking. We seek to live in Love, Surrender and Devotion to the One Source, and Honoring All Beings, with humbleness, respect and compassion, and to  imagine and create a beautiful life for ourselves and future generations. We welcome any and all people from all religious backgrounds who come with a sincere and wholehearted desire to connect to source and caretake of all creatures.
sacharuna
2020-05-07T01:56:04+00:00
Traditional Amazonian shamanic healing ceremony.
sacharuna
2020-05-06T19:57:00+00:00
Wachuma is a name in Quechua that designates the Trichocereus Bridgesii cacti, also known as San Pedro.
sacharuna
2020-05-06T19:50:11+00:00
This three-week shamanic retreat has been designed for all those who seek a profound transformation in their lives.
sacharuna
2020-05-06T19:52:20+00:00
We dance for four days, from sundown on the first day to noon on the last, fasting from all food and water.
Upcoming events
For more information contact us: +59168931063
Allkamari Retreat Center
Laz Paz, Bolivia
Just a few miles away from La Paz, looking over at the Valley of Souls and the stunning presence of Mt. Illimani, lies an overseeing Tibetan Stupa that marks the grounds of Alkamari Resort. We can arrange to pick you up from the San Miguel Church, or you can just hop on bus number 42 going to the town of Uni.
Wizard Mountain Retreat Center
Rurrenabaque, Bolivia
Our retreat centre in the Amazon is located at the mouth where the valley stream meets the river Beni. It is the closest encampment to the small town of Rurrenabaque, from which our company's boat will be waiting for you. Our healing centre carries the name of the mountain range that oversees it: Wizard Mountain.
Very beautiful experience

One of the best experience with medicinal pplants in Bolivia. Miguel is very profesional and will recive you with a big smile and will do everything for you to live one good experience. The place si very good and everything is well organized to live a beautiful trip. Miguel is very experienced and will help you to understand the ayahuasca or san pedro ceremonies. I advise you this place whatever fi you are experienced or for the first time .
San Pedro Sacred Ceremony

It has been a privilege to be guided by Miguel and received the medicine by his hand. This experience gets deeper every time. The ceremony was beautifully prepared and was handled with so much love, dedication and devotion, as he prays.
My daughter 17 years old accompanied us for the first time, and it was because we would do it under his guidance. How carefully he prepared us days before, with voice messages, videos and personal talk.
I have seen miracles happen, thanks to it.
Bring yourself, that is all .
Sacred ceremony with amazonian medicine

I have been in 2 ceremonies this year, both conducted by Miguel. Although they were completely diferent from one another, they both provided me deep knowledge about my inner truth and about out connection between us and with mother earth. Since then, my life perspective has changed. I think Ive become more tolerant, aware, chilled and why not happier! Miguel was awesome when guiding the process. His being, music and compassion are present during the whole ceremony. Thus, making you feel safe Even when facing the darkest part of yourself.
I absolutely recommend this practice if you want changes in your life and you don't know where to start or if you feel somehow lost. Let me tell you dear friend, the answers lie within you and this is a great technique to start finding them. Please don't lose hope, know you are not alone and there are a lot of us willing to see you as you are: a full of love compassive human being
Beautiful, life-changing experience

I spent a full week retreat at Sacha Runa, and it was truly magical! Juan is extremely kind, caring, and attentive. He deeply respects Mother Nature and his path as a shaman, and is very knowledgeable about a wide range of spiritual teachings. He truly wants the best for his guests, both while on the retreat and also on their life journey. He made me feel extremely welcomed, and I trusted him completely.

As a female traveling on my own, I felt safe and secure at Sacha Runa. The location is nestled among snow-capped mountains and beautiful views, and the buildings are constructed in a way that allows visitors to connect with nature.

I would highly recommend going to Sacha Runa, and look forward to going back myself someday. I'm deeply grateful for Juan and his partner, Lula, and the beautiful experience they shared with me.

Much light to all who are drawn to this place. You won't regret it.
Spiritual Ceremony at Alkamarri

This place is magic! Surrounded by mountains,the views from Illimani and Mururata. It is a powerful safe place where you can have the confort of the hotel and nice food (if not on a diet). Juan, the guide here is a knowledgeable young man with experience and good heart. You come not only to heal and connect with your self, but also to reinforce a bond with nature and to understand more about human reality and thespiritual world. I truly recommend this experience!
The hardest and most meaningful week of my life

I came to the retreat in order to come off antidepressants, and hopefully get some answers as to why I felt that I needed them in the first place, all of sixteen years ago.

As you can't take ayahuasca while on antidepressants, I thought this was as good an excuse as any to kick the meds. So I started tapering off 2.5 weeks prior to our retreat. (With a LOT of help with the person I came with). By the time I got to the retreat, my battery was blinking "empty." I was having nightmares, brain zaps, and terrible mood. I had no idea how I would handle this experience.

I met Juan (our shaman) in the afternoon of the first day, in the temple. I was terrified of ayahuasca. I was already depleted and had no mental strength for anything. But, somehow I knew I could trust that he was going to make sure I was okay. He was able to read how you felt and what you were going through. I felt safe.

After three ceremonies, a diet of about 400 calories per day, a temescal, I was completely broken, mentally and physically. I had given up control. I had given up everything. And I found peace in having nothing. The final ceremony pulled the remaining darkness out of me, and dissolved it. I don't know exactly what the ceremonies did, but I know they impacted me in a way that my body and mind will never forget.

I left the ceremony with a calmness and confidence that I have more strength than I ever knew. I left knowing that I was okay.

I can't stress enough how important it is to have a good shaman. This ceremony is sacred, and needs to be run by someone who is 100% devoted to serving the needs of others. Juan runs the retreat (not just the ceremonies, but every single detail of your day-to-day) with thought. The experience is customized to you, what you need, and what you can handle.

This is not a "tourist ayahuasca" retreat. This is real. It's hard. You will be challenged, and you will come out the other side all-the-wiser, and stronger.

If you're going to do ayahuasca, do it here.
Our collection of videos,  photographs, artists, audios, books and movies.
(Coming  soon)